This blog content is provided by National Adoption Center
There are no unwanted children...just unfound families

Benjamin is a handsome 14-year-old with an innovative mind. He loves technology, making origami, cooking and he has even been a member of his school's choir. In school, he is in regular education classes and gets good grades. The future looks promising as his goal is to work in the electronic field when he graduates college. Right now, he is working with his social workers on finding a good family.
Wednesday's Child host Vai Sikahema recently met up with Benjamin at NextFab Studio, Philadelphia's "gym for innovators." The two met with President and Engineer Evan Malone and High-Tech Ambassador Jonathan Tekac. Jonathan welcomed everyone and took them around their beautiful facility. Benjamin was very curious and intrigued about each department he learned about. At the end of the tour, he met with Evan, who told him he would be making his own circuit board. Benjamin was excited and jumped right in. After a few trial and errors, Benjamin's circuit board worked! He and the entire staff were very proud of him.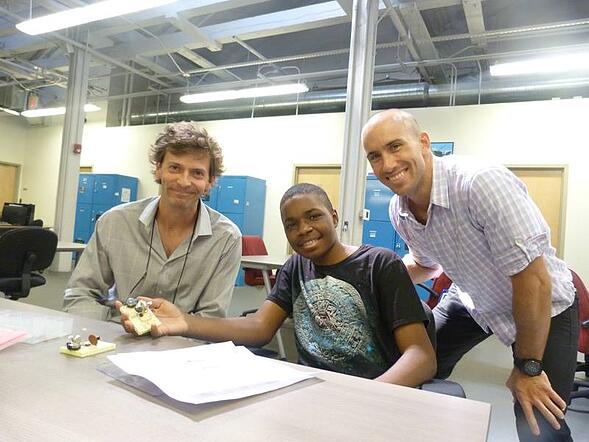 Benjamin and Vai later sat to talk about Benjamin's interests and his desire to have a family. Benjamin wanted Vai to see his latest origami project—a swan. Vai was super impressed! Benjamin then spoke to Vai about his desire to have a family that would allow him to express himself. He simply wants a family that will love him and give him their love and attention.
Will you be that family for Benjamin?
You can find Benjamin and other waiting children on our Wednesday's Child website.
Wednesdays Child is a partnership of the Freddie Mac Foundation, NBC10 and the National Adoption Center.
If you missed Benjamin's Wednesday's Child story on NBC 10 on Wednesday, September 25th at 11am, this segment will re-air on the Saturday and Sunday morning news at 9:00 am. Also, a briefer version of the feature will be aired several times throughout the week.
We also encourage you to visit NBC 10's website to view video stream if you are unable to see it at the scheduled time.